"The prices of the flutes are beyond reasonable, perhaps bumping against preposterous. I think that the Tipple flute would make a popular alternative for the budget-conscious. It is easy to blow, has comfortable fingering, and the tuning is excellent. I admire Doug's efforts at putting a nice flute in people's hands for so little money."
Thank you for visiting my webpage. Please note: I make every effort to promptly reply to every email inquiry about my flutes. However, if you receive no reply from me, please check your spam folder, as my reply may be there. I sometimes find inquiries from potential customers in my spam folder, so I try to check it every day to recover those emails.
Please scroll to the bottom of this page for contact information and how to order a flute.
I also have a YouTube channel with several videos of tunes played by experienced players. Please see the audio files page for details. In addition to feedback listed on the "Customers Comments" page on the sidebar, I received this unsolicited feedback, April, 2010. ""Excellent flute! Cheerful and professional customer service! I'd recommend this to any other beginner like myself who isn't sure if they want to put $300 down for a "true" Irish flute without trying it out for 1/3 the cost. I'm progressing rapidly on Doug's flute, and I'm glad I got it. Doug handled my order speedily and professionally — and when I lost my tipple-fajardo wedge, he installed a replacement wedge for me at no charge! Good busineeses like this deserve our praise. Way to go Doug!"
On the online flute forums my flutes are sometimes mentioned as "starter flutes", suggesting that a player would ideally want a "better" flute as he/she progressed on the flute. However, I often receive email feedback from customers like the one I received today, September, 2010. Speaking of his purchase of my 3-piece, 6-hole low D flute with the lip plate headjoint, he wrote: "I paid five and a half and a half times what your flute and extra head cost me – for a higher maintenance wooden flute that doesn't give me the satisfaction, playability and enjoyment I get from yours. Yours is even easier to half hole."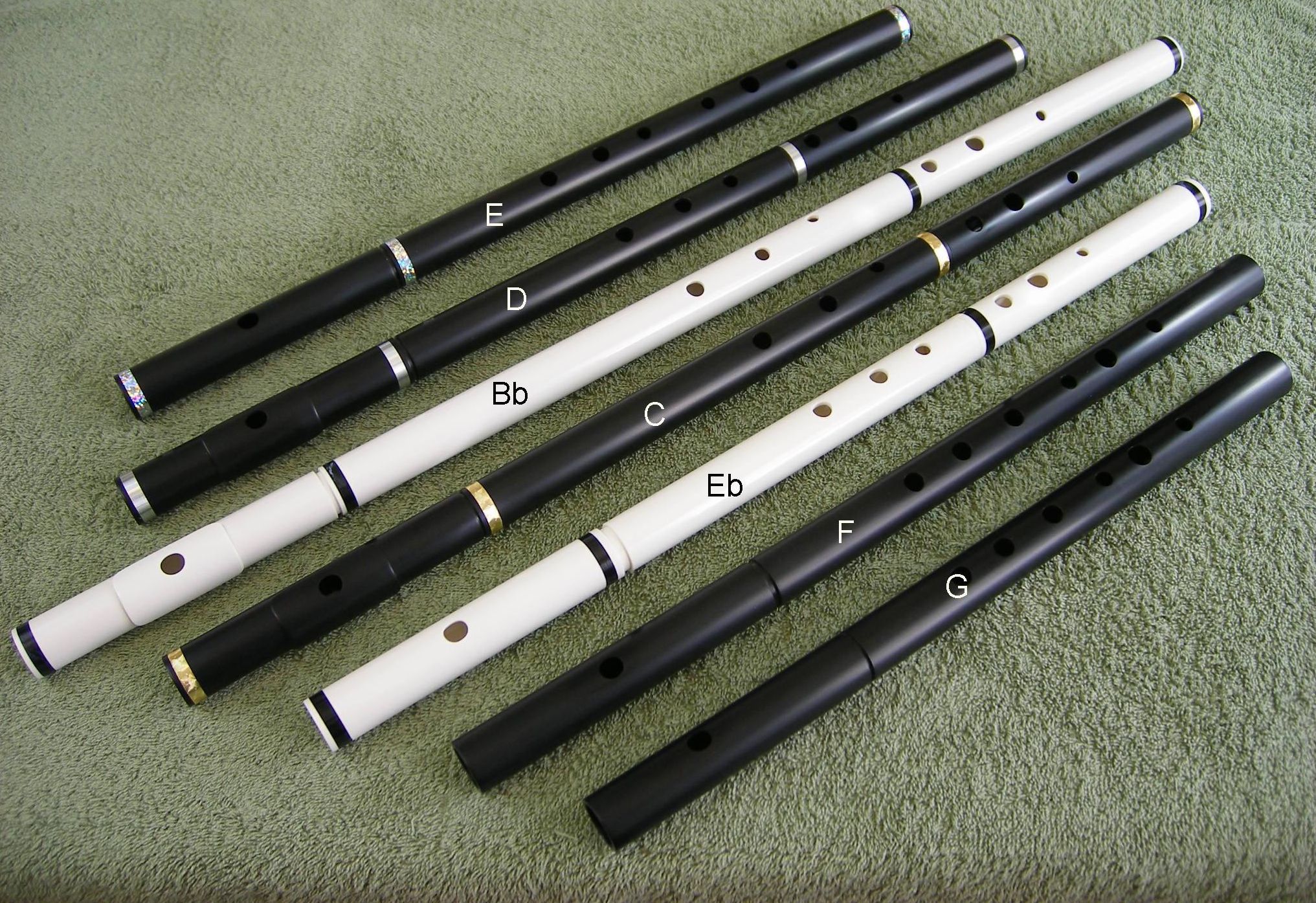 The photo on top is of my 3-piece, 6-hole low D flute with inline finger holes and an oval embouchure hole with brushed silver vinyl faux rings. The photo on the bottom is a group photo of most of the flutes that I am offering below. Both photos can be made larger by clicking on them.
The following flutes are arranged in order from the smallest size (highest pitch) to the largest size (lowest pitch). Optional lip plates  are (+$25). The Tipple-Fajardo wedges (once  recommended @ +$10 ea.) are no longer listed as options and are included in the price of the flute. Please see the page "Sorting Out the Options" on the sidebar.
Flutes that I am currently making (Jan 1, 2018):
Three-piece, tunable six-hole G flute @ $90
Three-piece, tunable six-hole F flute @ $90
Three-piece, tunable, six-hole E flute @ $90
Three-piece, tunable six-hole Eb flute @ $90
Three-piece, tunable six-hole low D flute @ $90
Three-piece, tunable eight-hole low D flute @ $100
Three-piece, tunable six-hole low C #/Db flute @ $95
Three-piece, tunable six-hole low C flute @ $100
[/author]
Accessories for the flutes:
Tipple-Fajardo wedge installed in the headjoint are now included in the flute price.
Optional lip plate with either embouchure design @ + $25, available only for the low D and low C flute. Please see my comments on the page: Optional Lip Plate Headjoint
Faux rings (brushed silver or brushed gold), if you request them, @ no additional charge
Flute Specifications:
The pipe that I use to construct the large-bore flutes (G, F, E, Eb, D, C#/Db, C)  is schedule 40, 3/4″ PVC plumbing pipe, which has an ID (internal diameter) of .800″ and a wall thickness of .125″.
For the low D flute: The 6-hole low D flute is 23 1/2″ long and weighs 6.2 oz. The 8-hole low D flute is 26 1/2″ long and weighs 7.2 oz. Both flutes have exactly the same finger hole placement. All flutes are available with offset or inline finger holes (please specify). Unless you have large hands, I recommend offset finger holes for the larger of the above flutes. The choice between inline or offset holes also depends on how you plan to hold the flute. Inline finger holes may be a better choice with the piper's grip. Please refer to the separate page "Flute Finger Hole Comparison" for more details.
Flute Colors: I offer all of my flutes in white and coal black, both priced the same.  I give my recommendations on my FAQ page. I should say that since I started offering the black flutes, nearly all of the flutes that I have made are black flutes. People are universally pleased with the appearance of both the white and the black flutes.
Flute embouchure: For the first ten years of my flutemaking (over a thousand flutes) I have used one embouchure design, a smaller round embouchure hole (about 9.5 mm in diameter) for all of my flutes. Recently, however, I have been encouraged to also offer a more conventional embouchure for the modern Irish flute. Please see the separate page, "Flute Embouchure" for more details, photos, and my recommendations. Update, June 2015: for the past two years nearly all of the flutes that I have made have had the oval embouchure. At this point I can confidently recommend the oval embouchure for players at every level.
Faux Rings: I will install four vinyl rings of your choice on a new flute without an additional charge. Please see the page "Dressing Up Your Flute" on the bottom of the side bar.
In the USA I ship the above flutes by insured USPS priority mail with tracking at $7- $12, depending on the zone.  Multiple flutes can be shipped together for slightly more (please inquire). I like to ship international orders by insured USPS 1st class airmail with tracking, and the shipping cost is $23.50 for most places in the world, $15.50 in Canada.
In the USA, while I prefer payment by personal check or money order, I do accept paypal payments (3.5% fee). For international orders I accept payment by international money orders in US dollars drawn on an USA bank, American Express, Western Union MoneyGram, or Paypal (add 4.5% to offset my paypal fee).
To place an order or to ask further questions, please send me an email. My email address is: dougsflutes@gmail.com
My mailing address is:
Doug Tipple
2010 Sandhill Court
Indianapolis, IN 46217
USA
Thank you for visiting my webpage.