A short biography of Doug Tipple, the man behind the famous PVC flutes. Find out how the musician and flute-maker got his start…
I am a semi-retired, 69-year old ex-(bank teller, high school math teacher, geologist) that likes also to dabble in music. When I was a small child, I really wanted to play the guitar. There wasn't a guitar teacher in the little town where I lived, so my mother found an accordion teacher who couldn't play the guitar but, nevertheless, agreed to give me guitar lessons. In high school I got my first electric guitar and graduated to a rock and roll band. In college I taught myself to play classical guitar, a passion that has been with me for more than 50 years. Also in college at Indiana University I became part of the folk song revival of the 60's and played folk guitar and sang in the local coffeehouses. And more recently, while living in Tucson, Arizona and a member of Tucson Friends of Traditional Music, I played fiddle and guitar in a contra dance band. At my former home in Lafayette, Indiana I played my PVC flute as a street musician for the downtown farmer's market, for church and memorial services, and for a local civic event, the opening of a new foot trail along the Wabash River. I was the pied piper that led the dignitaries along the new trail. I got to eat lunch in the sweltering heat with the mayor and state congresswoman. They gave me $20 and a free box lunch, so I guess that makes me a professional musician.
Throughout my life I have always been interested in making or repairing instruments. I have worked in a guitar building shop, repaired piano actions for a piano store, and most recently repaired violins at the Folk Shop in Tucson, Arizona. I started making PVC flutes several years ago, and since that time through trial and error have developed a very nice group of Irish flutes.
To find out more about me, please visit my profile page at facebook. http://www.fbook.me/dougsflutes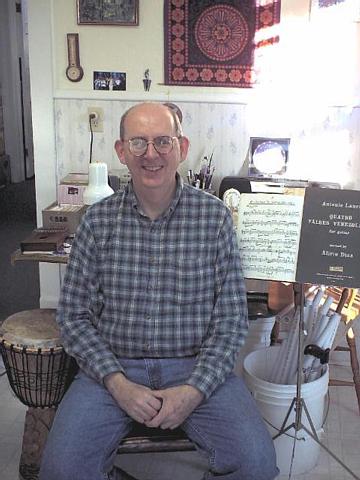 The following two photos show some of the places where I work on flutes. You can click on the photos to make them larger.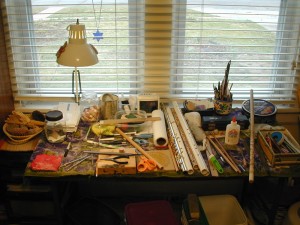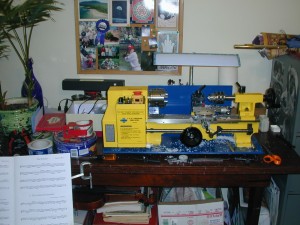 I played my high D flute for a New Year's Day party.