I have selected 20 tunes for this tunebook. Not all of them are Irish tunes, but they are all tunes that I have played in a contra dance band (playing second fiddle and guitar) and tunes that I like. I think that they are all quite suitable for the Irish or simple-system flute, whistle, or other melody instrument. I tried to choose a fairly even sampling of reels, hornpipes, jigs, and waltzes and airs. Originally I had planned to play each tune on the Irish flute, but I opted, instead, to record the melody of the tune in step time with a midi piano voice and do the accompaniment with guitar in real time. This freed me from having to be so precise with my playing, and with recording in midi step time I had the freedom to record at my leisure, print sheet music, and alter the tempo of the piece after it had been recorded. So I don't think of the tunes in the tunebook as performance pieces, but as learning pieces in slow tempo for the beginner to learn the tunes and to play along with the music.
The sheet music files are in pdf format and will require an Adobe Acrobat Reader to view. The Acrobat Reader is a free download. Search for "Acrobat Reader downloand". I find it most helpful to minimize the audio player and to follow/play along while looking at the sheet music on the screen. It is also easy to print the sheet music if you so desire.
The first four tunes are reels. "Westfork Girls" is an easy old-time reel in D major. It is often played for contra dances and is performed considerably faster than I have recorded it here. "Rose Tree" is a traditional Irish reel, recorded here considerably slower than it is usually preformed. "Farewell to Whiskey" is a traditional Irish reel in G major. As reels go, it is easier to play than many others and is a common choice for contra dancing. In addition to the fast paced dance tempo, you also hear this tune being played as a slow lament, which I will perform on the Irish flute. And lastly from this group of reels, I have included "Mari's Wedding", which is an easy Scottish reel. I first heard this tune sung by Jean Redpath on Prairie Home Companion years ago. It is one of my favorite tunes.
The next group of tunes are waltzes and airs. "Si Bheag Si Mhor" is an Irish air/waltz by Turlough O'Carolan (1670-1738), a blind, itinerant harper, who for nearly 50 years traveled throughout Ireland, creating beautiful melodies and performing them on his harp. "Si Bheag Si Mhor" can be translated as "little fairy mound, big fairly mound". It is one of the most popular melodies in all of Celtic music.
"Margaret's Waltz" is a very popular modern waltz written by Pat Shaw. You hear this tune being played for dances and fiddle gatherings, and it is also an easy and beautiful tune for the Irish flute. "Danny Boy", also know as "Londonderry Air", is a well-loved Irish folk song. The great 20th century violinist and composer, Fritz Kreisler, was once asked what he thought was the most beautiful tune that he had ever heard or played. His reply was, "Danny Boy".
"Young Jane" is an old-time waltz. It has an interesting and beautiful chord progression. I like this tune very much. Just close your eyes and imagine that you are on the dance floor with your sweetheart. "Star of County Down" is a traditional Irish waltz. This tune is in A Aeolian mode, and it certainly sounds Irish. I think that this is an excellent tune for the beginning student. The last waltz in the group is "Westphalia Waltz". This is another beautiful waltz. Notice that there are C# and C natural notes. I recommend the cross fingering rather than the half holing for the C natural notes. I use to attend a weekly fiddle gathering in Tucson. "Westphalia Waltz" was their favorite tune. All of the fiddlers came up on stage, and everyone danced to the tune. I would like to write a tune as good as this one.
There are six jigs in the tunebook: "Swallow Tail Jig", "Little Burnt Potato", "Lanigan's Ball", "Road to Lisdoonvarna", "Off She Goes", and "Kesh Jig". I have recorded all of them at a reasonably slow tempo. I think that jigs and reels can be overwhelming for the beginner if they are performed at a fast tempo, which is how they are usually performed. I have also omitted all ornamentation in order to simply the learning process. Ornaments can be added later after the beginning player has learned how to play the basic notes of a piece with ease. "Swallow Tail Jig" is a nice tune, but it is easier on the fiddle than on the flute, in my opinion. "Little Burnt Potato" is a wonderful dance tune. It has a lot of changes between C natural and C# that you need to be conscious of, but I think that it is quite playable for the beginning player at slower tempos. The final four pieces in this group are standard Irish jigs. "Road to Lisdoonvarna" is the easiest tune in the group and the one that I recommend for beginners. It is one of my favorite tunes, and the chord progression for this modal melody is interesting and beautiful. The only problem that I have had playing this tune is that many guitarists who try to accompany this tune do not play the correct chords, and it just doesn't sound right.
The last four tunes in the tunebook are hornpipes: "Boys of Bluehill", "Rights of Man", "Harvest Home", and "Jacky Tar". It is hard to write the sheet music for hornpipes to represent how they are actually performed. Hornpipes are usually played slower than reels, and the rhythm is more syncopated. However the same music can often be played as either a reel or a hornpipe depending on how you emphasize the rhythm. For contra dances the pieces are played with the more regular rhythm of a reel.
Note: Click the audio player to listen to the song, and click the image to enlarge the sheet music.  Each song is set to auto-repeat so you can keep playing along to the music while looking at the sheet music.
Reels
Westfork Girls
Rose Tree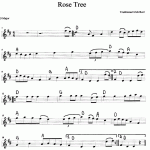 Farewell to Whiskey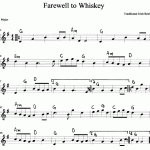 Mari's Wedding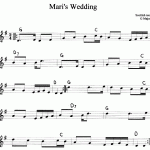 Waltzes and Airs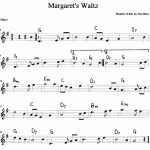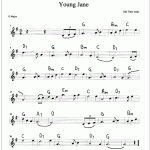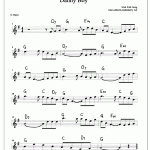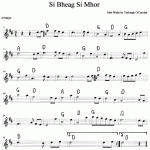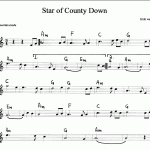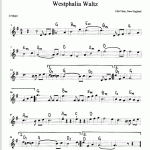 Jigs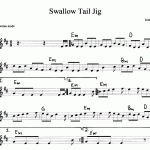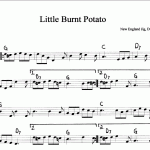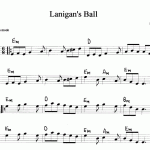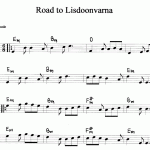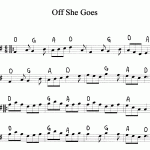 Hornpipes