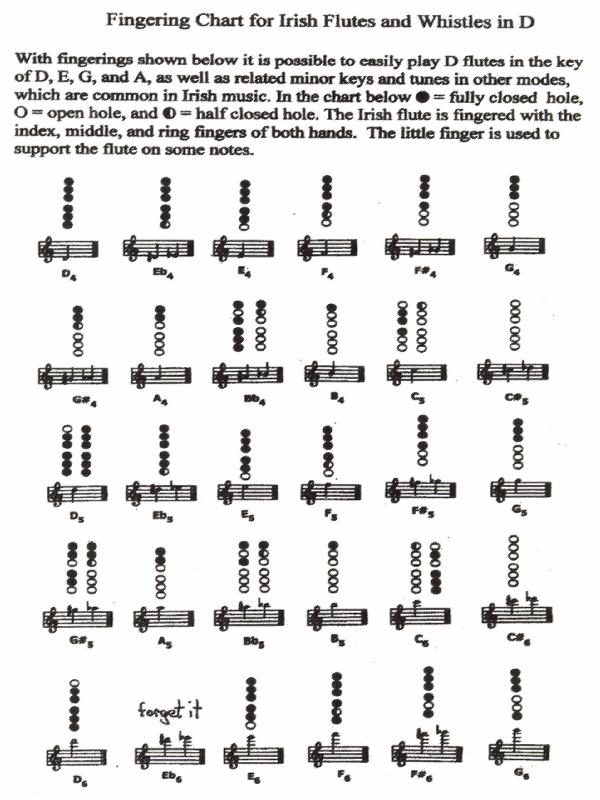 Here is a simplified finger chart for my 9-hole chromatic flutes (low D and G).  "T"= hole closed with the thumb; "F"= hole is closed with the finger; "H"= hole half closed; "O"= open hole, not covered.
FTFF  TFFFF   key of D, key of G
FTFF  TFFFH              D#            G#
FTFF   TFFFO              E               A
FTFF   TFFOO              F               A#
FTFF   TFOFO              F#            B
FTFF   TOOFO              G              C
FTFF   OOOFO              G#           C#
FTFO   TOOFO              A              D
FTOF   TFFOO               A#            D#, cross-fingered note
FTOO   TOOFO              B               E
FOOO   TOOFO              C               F
OOOO   TOOFO              C#            F#
FTFF     TFFFF                D              G
As you can see, in the upper part of the scale I choose to stabilize the flute with the right hand thumb and ring finger. These holes can remain open if you prefer. There are also a couple of the highest notes in the second octave that sound more on pitch with alternate fingerings. Just experiment and see what works best for you. The half-holed D# on the low D flute doesn't sound well, which is why a key is usually required to play this note well. The half-holed G# works better on the smaller G flute.